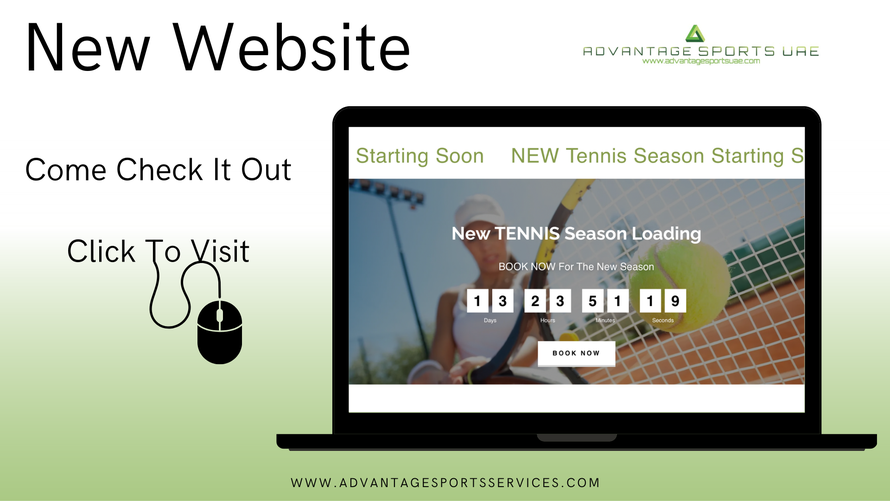 ---
Thank you for your interest in Swimming with Advantage Sports, it would be a pleasure to help you on your swim journey. "Advantage Swimming Academy" have more than 12 fixed locations and teach over 1000 students per week from the age of 6 months in our Aqua Baby classes through to Adult Advanced Swimmers and Triathlon Professionals.  
Our Swim team consists of 8 highly qualified coaches from all over the world, all approved and registered with the UAE Swim Federation and in addition to holding a wide range of Swimming Qualifications they are also approved and certificated lifeguards.
Please click on the link below for booking & enquiries.
Stay Safe & Stay Active
Advantage Sports Services
---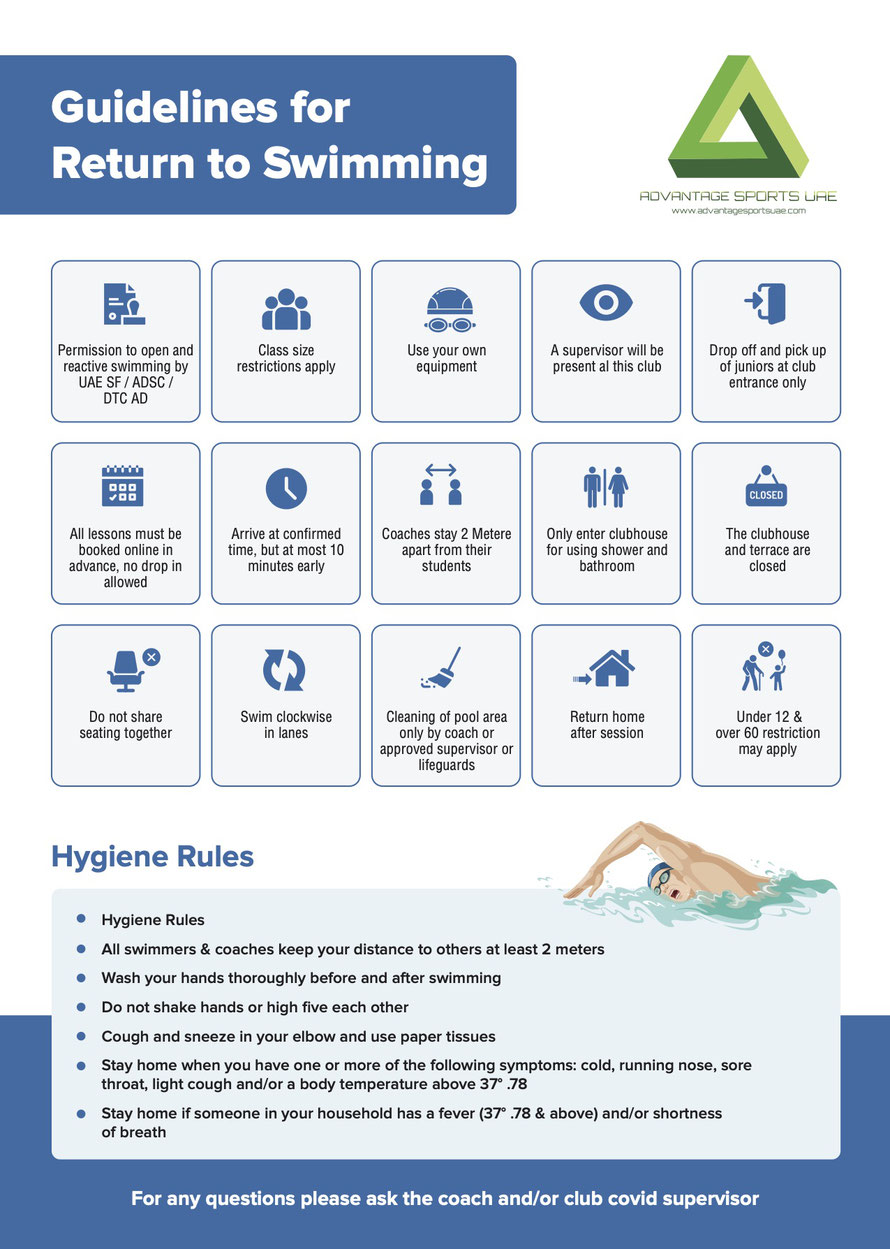 ---
---
Advantage Aqua Baby program allows parents to bond with their babies in a relaxed and enjoyable aquatic environment. Our Aqua Baby classes build water familiarization and confidence through a mix of songs, activities and games. These classes are beneficial for both babies and adults, providing a forum where parents can explore relevant issues and learn to feel confident around the water with their children 
Advantage Water Recreation & Learn To Swim program focuses on the development of swimming technique as well as the importance of water safety. Here the emphasis is on water confidence and gaining independence in an aquatic environment, with each level building on skills previously learned. By the end of the program children will be able to perform freestyle, backstroke, breaststroke and butterfly competently and they will be knowledgeable with regards to safety in an aquatic environment. 
Advantage Stroke Correction Class concentrates on the improvement and development of technique and stamina. These levels are squad orientated and provide swimmers with a more competitive, yet still sociable environment, in which to sharpen their skills. Skills required for competitive swimming such as starts, turns and finishing techniques are introduces and explored. 
---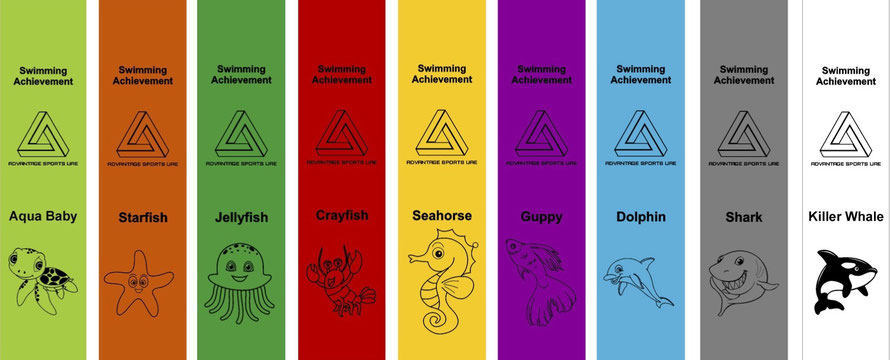 Our Awards are divided into 9 progressive stages, they make up the core, syllabus of learn to swim for children.
They are designed to reward your child for their development of the essential aquatic skills they need to be confident, competent and safe in the water.
Each of the 9 stages has a list of clear outcomes that need to be completed in order to gain each award. Our 9 stages are:
STAGE 1 - Aqua Baby Level - Water Familiarization.
STAGE 2 - Starfish Level - Beginner Aided Swimmer.
STAGE 3 - Jellyfish Level - Beginner Unaided Swimmer.
STAGE 4 - Crayfish Level - Progressing Unaided Swimmer.
STAGE 5 - Seahorse Level - Intermediate Unaided Swimmer.
STAGE 6 - Guppy Level - Developing  Unaided  Swimmer.
STAGE 7 - Dolphin Level - Junior Advanced Unaided Swimmer
STAGE 8 - Shark Level - Advanced Swimmer.
STAGE 9 - Killer-Whale Level - Pre Squad Section Swimmer.
---
Advantage Swim Squad is the culmination of swim school and prepares swimmers to join the Advantage Swim Club. At this level swimmers start training to compete. Swimmers are encouraged to swim at least twice a week to build the endurance and fitness required for competitive club swimming. Swimmers at squad level are educated with regards to training, competition and squad etiquette. This combination ensures an all round developed swimmer.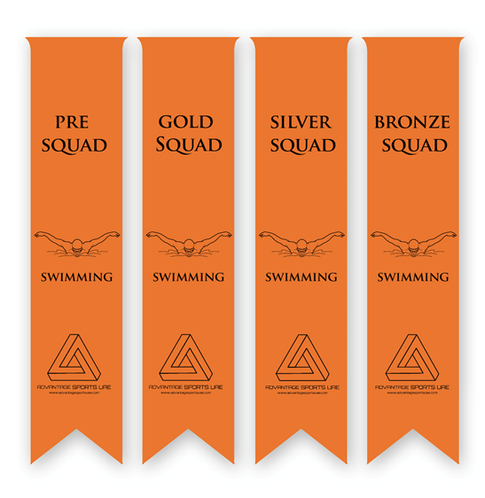 ---
Advantage Adult Swim School offers 4 levels of adult classes, our swimming framework understands that adults have very different needs to children when learning to swim. Adults have different motivations, learn in different ways and have completely different needs to children learning to swim.
We believe that every person should have a chance to learn to swim and become the very best swimmer they can be, which is why our adult lessons give a very specific set of aims and targets.
The Advantage Adult Swim School has a syllabus with clear aims and objectives, which help swimmers, start to become competent and confident in their ability in the water.
It caters for every type of adult swimmer, including those who are unable to swim at all, beginners and those who are nervous about swimming. There is also support for swimmers who are coming back to swimming after a break or just those who want to improve their technique.
Confident swimmers are given the opportunity to improve all of the four strokes, go into the competitive side of swimming or to join a Masters club, which are aimed at adults over the age of 18.
If you are serious about your swimming then there are 4 Adult Learn to Swim levels to work towards.  Our 4  stages are: 
STAGE 1 - Be Water Confident – this level is about gaining the confidence to enter the pool safely. It also covers the ability to move around the pool with confidence and to achieve basic core aquatic skills. These are entries, exits, buoyancy, balance and aquatic breathing.
STAGE 2 - Be a Swimmer – by the time you earn this level you will have the necessary skills to start swimming independently over short distances (5 to 10 meters). You won't need support or swimming aids
STAGE 3  Be a Better Swimmer – by this point you'll be able to swim up to 400 meters independently. You'll also have the confidence to try other pool activities, such as Aqua Fitness or lane swimming.
STAGE 4  Be a Master Swimmer – gaining this level means you can confidently enter the Masters section of a swimming club (find more on Masters swimming here). It's about more advanced swimming skills to enable you to compete.
---
Aqua Tone is an  invigorating class held in the pool improves cardiovascular conditioning, muscular strength and endurance using the buoyancy and resistance of the water to give you a safe, effective, fun and "no sweat" workout. It also allows a break from "impact" on the body so you are getting a great workout without pounding your joints, ligaments and tendons.
Adult Swim Fit is designed to help students to become a more efficient and faster swimmer. You maybe new to the sports or a seasoned swimming athlete. Advantage have the knowledge to help you improve your skills, strength and fitness and it comes to your swimming goals and objectives.
---
---